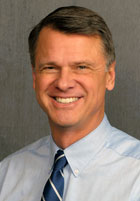 John Kulits, MD is a board-certified comprehensive ophthalmologist, who performs small-incision cataract surgery, oculoplastic surgery, and laser procedures.
Dr. Kulits attended Johns Hopkins University, where he earned a B.A. in natural sciences. He earned his JD in 1991 at The University of Washington School of Law and practiced law. In 1997, he began medical school at The University of South Dakota School of Medicine, where he earned his M.D. in 2001. He completed his transitional year residency at Carilion Roanoke Memorial Hospital in 2002. He then completed his residency in ophthalmology in 2005 at Geisinger Medical Center in Danville, PA, where he shared responsibility as Chief Resident during the third year.
Dr. Kulits has practiced in private and solo practice in North Carolina and in the Pacific Northwest. He is married with four children–three sons and a daughter. They enjoy playing basketball and tennis together. Dr. Kulits is happy to see patients of all ages, including children. He enjoys the personal side of medicine and loves to get to know his patients.