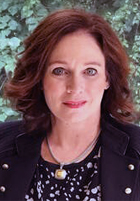 Dr. Patricia Champion has been practicing Optometry in the Western North Carolina area since 1994. Dr. Champion specializes in custom contact lenses including Scleral Contact Lenses for the treatment of Keratoconus and other ocular surface disease. She also provides comprehensive eye exams to diagnose and manage all eye health issues, including glaucoma, cataracts, macular degeneration and ocular conditions associated with diabetes.
Originally from northeast Pennsylvania Dr. Champion graduated Cum Laude with a BS degree in Biology from Wilkes University. She went on to receive her Doctor of Optometry degree from Pennsylvania College of Optometry (now Salus University) in 1995, where she received one of 4 top clinical honor awards given at graduation. Following Optometry school, she and her husband, Dr. Andy Champion, moved to Asheville, NC and started Champion Eye Center. After selling their private practice of 24 years, Dr. Patty Champion joined Looking Glass Eye Care in June 2019 and is thrilled to bring her expertise in Optometry to the Brevard area.
Dr.'s Champion have one son, Dylan, and are proud to call WNC home. They have been involved in many local youth sports throughout the years. Dr. Patty is passionate about skiing, interior design and traveling with her family.